Larimer County, Colorado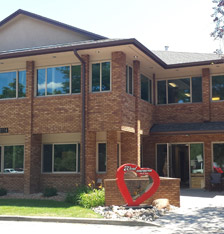 Loveland
2114 N. Lincoln Ave., Suite 206
Loveland, CO 80538
Karen P. Kealy – Attorney Mediator
Holly Stewart – Financial Counselor
Penny A. Kidd – Parenting Mediator
Our Loveland, Colorado office serves residents of the Colorado Front Range and surrounding counties.
The Loveland office serves residents the Colorado Front Range,including Denver, Arvada, Westminster, Broomfield, Boulder, Longmont, Loveland, Fort Collins and Greeley.
Located on the first floor of the renovated Ward Building, the office is a private, pleasant environment in which to meet with our mediators. For your comfort and convenience, there is ample free parking on site.
In Historic Downtown Loveland, you'll find art galleries and bronze foundries, restaurants, the Rialto Theater, the Loveland Museum, and one-of-a-kind stores, all within walking distance. For more shopping and dining options, both the Promenade Shops at Centerra and The Outlets at Loveland, featuring more than 40 brand name stores, are located within eight miles from the office.
A half-hour drive from Fort Collins, Loveland is easily accessible from the interstate (I-25) at exit 257. Hwy 34 runs through the center east-west, and Hwy 287 runs through Loveland north-south.
The Alpha Center for Divorce Mediation offers a no-obligation, hour-long complimentary consultation with an attorney-mediator who will review all your important legal and practical concerns and explore the alternatives between litigation and mediation.
To schedule your complimentary consultation, please call (800) 310-9085 between 9 a.m. and 5 p.m. Monday through Friday. Evening and Saturday appointments are also available at this location.