Philadelphia County, Pennsylvania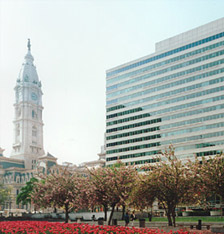 Philadelphia
1515 Market Street, Suite 1200
Philadelphia, PA 19102
Gregory A Hubbard – Attorney Mediator
Our Philadelphia office serves residents of Philadelphia County.
The Alpha Center for Divorce Mediation offers a range of services by experienced attorney, accountant, and therapist mediators who can help save you time, money and stress.
This landmark building sits directly across from City Hall and boasts impressive views of both City Hall and Philly's landmark fountains of Love Park. Our elegant office is within walking distance to restaurants, shops and area attractions.
Additionally, 1515 Market Street is located within one block of ample parking that can be accessed through the underground concourse. This public space includes a café, outdoor seating and fountains.
The building and offices are ADA accessible. Both the Market Street and Plaza entrance doors are automatic, with the push of a button. There are ADA restrooms on just about every floor.
This office is easily accessed via major roadways, railways and busses throughout Pennsylvania, New Jersey and New York.
The Alpha Center for Divorce Mediation offers a no-obligation, hour-long complimentary consultation with an attorney-mediator who will review all your important legal and practical concerns and explore the alternatives between litigation and mediation.
To schedule your complimentary consultation, please call (800) 310-9085 between 9 a.m. and 6 p.m. Monday through Friday. Evening and Saturday appointments are also available at this location.
Meet Your Attorney-Mediator/s

Greg Hubbard has served people over the past 25 years in various roles as a practicing attorney, as a non-profit executive, and as clergy member. He joins the Alpha Center for Divorce Mediation drawing on his diverse past experiences in public service. Most importantly, Greg decided to become an attorney-mediator based on what he learned through the resolution of his own divorce. He graduated from University of Nevada-Las Vegas' William S. Boyd School of Law in 2007. He also holds a BA and MA from Cincinnati Christian University. He is primary in Doylestown, Newtown, Willow Grove and Philadelphia.
Read full bio.