Delaware County, Pennsylvania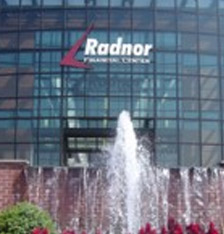 Radnor
150 Radnor Chester Road, Suite F200
Radnor, PA 19087
John D Guynn, Esquire – Attorney Mediator
Debbie Y. Schneider – Attorney Mediator
Our Radnor office serves residents of Delaware County.
The Alpha Center for Divorce Mediation offers a range of services by experienced attorney, accountant, and therapist mediators who can help save you time, money and stress.
Our office is located in the elegant landmark Radnor Financial Center. The building's 30,000 square foot atrium boasts huge plasma TV screens, ticker tapes, fountains and lounge areas that line the walkway to our executive suite.
Parking in general is unrestricted and free. The handicapped parking spaces are clearly marked along the front rows of parking lots around the building. We are ADA compliant.
The café on premises is open from 7 a.m. to 3 p.m. on weekdays. The Radnor Hotel on the other side the building has a full service restaurant and bar. Both adjacent to the hotel and within easy walking distance are eateries ranging from a coffee shop to fine dining establishments.
This location is easily accessed via Routes 476, 276 and 76.
The Alpha Center for Divorce Mediation offers a no-obligation, hour-long complimentary consultation with an attorney-mediator who will review all your important legal and practical concerns and explore the alternatives between litigation and mediation.
To schedule your complimentary consultation, please call (800) 310-9085 between 9 a.m. and 6 p.m. Monday through Friday. Evening and Saturday appointments are also available at this location.
Meet Your Attorney-Mediator/s

John brings over 18 years' experience to the Alpha Center, having practiced in multiple areas of the law. He holds a Juris Doctor degree from Widener University School of Law and a BA from Roanoke College in Communications.He is primary in Bala Cynwyd, Radnor, King of Prussia and Plymouth Meeting
Read full bio.

Ms. Schneider was born and raised in the Midwest. She is a graduate of the Villanova University School of Law. She has many years of experience practicing in all areas of matrimonial law, including working for judges presiding over all phases of family court matters.
Read full bio.