Delaware County, Pennsylvania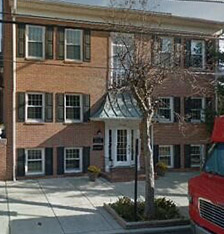 Media
c/o Messick Lauer & Smith P.C.
211 North Olive Street, Upper Level, Media, PA 19063
Leslie N. Mariani, Esquire – Attorney Mediator
Michael E. Hughes, Esquire – Attorney Mediator
The Media office serves residents of Delaware County.
The Alpha Center for Divorce Mediation offers a range of services by experienced attorney, accountant, and therapist mediators who can help save you time, money and stress.
Our Media office is located in a the offices of Messer, Lauer & Smith, P.C. law office. Look for a tree-lined entrance to the brick building with black shutters. This serene setting offers comfortable, beautifully appointed meeting rooms.
Only 2.5 miles from the Springfield Mall and across the street from the Delaware County Courthouse, our Media office is convenient to stores and restaurants in the area, two within walking distance.
There are coin-metered, on street parking spaces across from the building. The rate is .50 cents for each hour. Limited handicapped parking spaces are also available.
In addition to its proximity to I-476 and Route 1, this office is accessible by SEPTA, Regional Rail and the trolley.
The Alpha Center for Divorce Mediation offers a no-obligation, hour-long complimentary consultation with an attorney-mediator who will review all your important legal and practical concerns and explore the alternatives between litigation and mediation.
To schedule your complimentary consultation, please call (800) 310-9085 between 9 a.m. and 6 p.m. Monday through Friday. Evening and Saturday appointments are also available at this location.
Meet Your Attorney-Mediator/s

Leslie grew up in Kennett Square, Pennsylvania and earned her Juris Doctorate degree from the Dickinson School of Law in Carlisle and her undergraduate from James Madison University in Virginia as a scholarship athlete and Cum Laude English major. Her previous experience includes working as a litigator in a general practice firm in Media, Pennsylvania and several years in the Chester County Public Defender's Office. As a resident of Chester County for the last 35 years, she's most excited about bringing the Alpha Divorce Mediation Program to the people and communities close to her heart.
Read full bio.
Mr. Michael Hughes graduated from Thomas M. Cooley Law School in 1994. He received his Bachelors of Science from St. Joseph's University in 1988. After graduating from law school, Mr. Hughes worked as a law clerk for almost two years for two Montgomery County Common Pleas Judges. He gained significant experience in civil matters which included divorce, equitable distribution, custody, alimony and child support.
Read full bio.