Chester County, Pennsylvania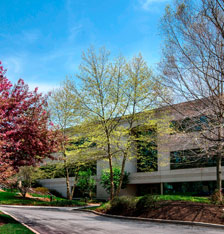 Exton
600 Eagleview Blvd, Suite 300
Exton, Pa 19341
Leslie N. Mariani, Esq. – Attorney Mediator
Our Exton office serves residents of Chester County.
The Alpha Center for Divorce Mediation offers a range of services by experienced attorney, accountant, and therapist mediators who can help save you time, money and stress.
We are located at 600 Eagleview Blvd, suite 300, Exton Pa 19341. A prestigious corporate headquarters building that boasts real wow factor and a strategic business location are what you get with the Eagleview Corporate business center.
Situated in a state-of-the-art class-A office park in Exton – one of Philadelphia's fastest-growing western suburbs – the third-floor business center benefits from a spectacular lobby, stunning glazed frontage and excellent on-site and off-site amenities. Exton is a retail and commercial hub in affluent Chester County and the area is also known as place where pharmaceutical companies operate.
The office park is conveniently positioned at the Route 100 interchange of the Pennsylvania Turnpike. A range of commercial opportunities in Philadelphia is the draw for many companies. The region's economy focuses on technology and service industries. A few miles from the center is a brand new Towne Center with restaurants, shops, and a grocery store for convenience, as well as the Exton Mall which offers Macy's, Boscov's, and Sears. Exton mall also includes covered parking, a children's play area and art classes provided by the Chester County Art Association. There is a bus line that runs from the Exton Mall to the business park.
The Alpha Center for Divorce Mediation offers a no-obligation, hour-long complimentary consultation with an attorney-mediator who will review all your important legal and practical concerns and explore the alternatives between litigation and mediation.
To schedule your complimentary consultation, please call (800) 310-9085 between 9 a.m. and 6 p.m. Monday through Friday.
Meet Your Attorney-Mediator/s

Leslie grew up in Kennett Square, Pennsylvania and earned her Juris Doctorate degree from the Dickinson School of Law in Carlisle and her undergraduate from James Madison University in Virginia as a scholarship athlete and Cum Laude English major. Her previous experience includes working as a litigator in a general practice firm in Media, Pennsylvania and several years in the Chester County Public Defender's Office. As a resident of Chester County for the last 35 years, she's most excited about bringing the Alpha Divorce Mediation Program to the people and communities close to her heart.
Read full bio.

Ms. Schneider was born and raised in the Midwest. She is a graduate of the Villanova University School of Law. She has many years of experience practicing in all areas of matrimonial law, including working for judges presiding over all phases of family court matters.
Read full bio.