Bucks County, Pennsylvania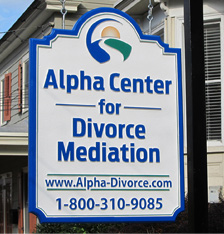 Doylestown
155 North Main Street,
Doylestown, PA 18901
Gregory A Hubbard – Attorney Mediator
Debbie Y. Schneider – Attorney Mediator
Our Doylestown office serves residents of Lower, Central and Upper Bucks County.
The Alpha Center for Divorce Mediation offers a range of services by experienced attorney, accountant, and therapist mediators who can help save you time, money and stress.
Located in a charming, historic building, Alpha Center for Divorce Mediation's office on Main Street in Doylestown is within walking distance to the shops, restaurants and attractions in the heart of the borough. Our office has a tranquil setting with an outdoor garden area for quiet place to relax and reflect.
All appointments with our mediators are privately held in our comfortable, well-appointed consulting rooms. This office is handicapped accessible.
This location is a convenient commute for Central and Upper Bucks County residents via Routes 202, 313, 413 and 611. Metered parking (free after 5 pm.) is available across the street. The Bucks County Parking Garage, which offers 24 hour free parking, is one block away.
The Alpha Center for Divorce Mediation offers a no-obligation, hour-long complimentary consultation with an attorney-mediator who will review all your important legal and practical concerns and explore the alternatives between litigation and mediation.
To schedule your complimentary consultation, please call (800) 310-9085 between 9 a.m. and 6 p.m. Monday through Friday. Evening and Saturday appointments are also available at this location.
Meet Your Attorney-Mediator/s

Greg Hubbard has served people over the past 25 years in various roles as a practicing attorney, as a non-profit executive, and as clergy member. He joins the Alpha Center for Divorce Mediation drawing on his diverse past experiences in public service. Most importantly, Greg decided to become an attorney-mediator based on what he learned through the resolution of his own divorce. He graduated from University of Nevada-Las Vegas' William S. Boyd School of Law in 2007. He also holds a BA and MA from Cincinnati Christian University. He is primary in Doylestown, Newtown, Willow Grove and Philadelphia.
Read full bio.

Ms. Schneider was born and raised in the Midwest. She is a graduate of the Villanova University School of Law. She has many years of experience practicing in all areas of matrimonial law, including working for judges presiding over all phases of family court matters.
Read full bio.