Lehigh County, Pennsylvania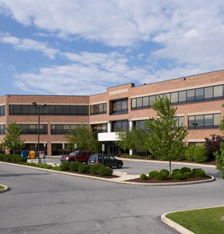 Allentown
1275 Glenlivet Drive, Suite 100,
Allentown, PA 18106-3107
Christine Lombardo-Zaun – Attorney Mediator
Debbie Y. Schneider – Attorney Mediator
The Allentown office serves residents of Lehigh County, PA
The Alpha Center for Divorce Mediation offers a range of services by experienced attorney, accountant, and therapist mediators who can help save you time, money and stress.
Located on the first floor of the contemporary Mill Run Office Center, our Allentown facility offers both comfort and convenience. Easily accessible via Routes 476, 78 and 22, our office space is private, pleasant environment in which to meet with our mediators.
There is ample free parking on site, including designated handicapped accessible spaces located next to the building.
A variety of restaurants, from diners to white tablecloth, are within a two-mile radius of our office. It's a short drive to Dorney Park, the Lehigh Valley Zoo and Allentown's shops, restaurants and museums. Lehigh Valley International Airport is just minutes to our West, off of Route 22.
Our location off Interstate 78 at the intersection of Route 100 North allows quick and easy access to Allentown, Bethlehem and Easton, PA.
The Alpha Center for Divorce Mediation offers a no-obligation, hour-long complimentary consultation with an attorney-mediator who will review all your important legal and practical concerns and explore the alternatives between litigation and mediation.
To schedule your complimentary consultation, please call (800) 310-9085 between 9 a.m. and 6 p.m. Monday through Friday. Evening and Saturday appointments are also available at this location.
Meet Your Attorney-Mediator/s

Christine brings extensive experience and expertise to the Alpha Center for Divorce Mediation. Her credentials include operating her own practice in Allentown since 2011 while also working with the Lehigh County Court of Common Pleas as a Divorce Review officer and court-appointed attorney since 2011.
Read full bio.

Ms. Schneider was born and raised in the Midwest. She is a graduate of the Villanova University School of Law. She has many years of experience practicing in all areas of matrimonial law, including working for judges presiding over all phases of family court matters.
Read full bio.